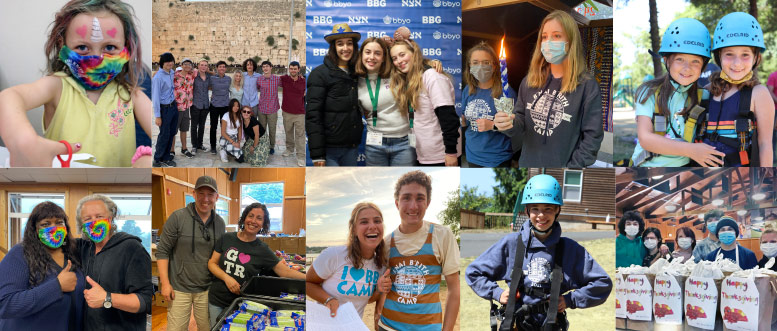 As I reflect on the complexities of this past year, I am reminded of our collective resilience, strength, and dedication to building community.  It certainly is not hard to say that this year has been like no other.  Although the challenges were immense, the joy and connection to Jewish life and one another made this past year extraordinary.  And, for the 10th year in a row, BB Camp was named in the TOP TEN of the 100 Best Non-Profits to Work For in Oregon!
Late last spring, the Governor of Oregon announced the re-opening of Overnight and Day Camps throughout the State.  Cheers echoed in our BB Camper families' homes.  As the CDC and Oregon Health Authority (OHA) Guidance continued to evolve, our agency was agile and dedicated to serving our community.  BB Camp was thrilled to open our gates to our community.  However, with great joy came great challenges.  Sustaining the agency and opening a shuttered business after the Governor mandated overnight camp closure in 2020, navigating through a tight labor market and COVID mitigating protocols, and most importantly, caring for the well-being and mental health of our communities' children post 15+ months of isolation due to the pandemic, was hard.
Although the challenges were persistent, I'm incredibly proud to share that Hineni |הינני  (Here [BB Camp] stands).  With health and safety our highest priority, BB Camp successfully and safely served over 1,500 campers and young adult counselors in our BB Overnight Camp and four BB Day Camps.  Implementing COVID mitigating protocols and non-pharmaceutical interventions allowed for joyous Jewish experiences this summer at our camps.  By utilizing multiple prevention strategies to avert COVID-19, as evidenced by a recent CDC study, we created a safe place for our children to be kids again!
One parent shared, "After a year+ of isolation and staying indoors, [our daughter's] camp experience was critical to her pandemic recovery.  We are so, so grateful she got to detox from home, the indoors, screens and got to engage with life and people and new friends and experiences.  A++++ summer, thank you!!!!"
And, from another parent, " Thank you for providing a safe camp in spite of the uncertainty of how things were going to go with COVID.  After an incredibly tough and isolating year, camp provided just the right experience for my child and it came at a much needed time.  Our family cannot thank you enough."
Utilizing Jewish values to support our work with children and families, we have learned that Ometz Lev (courage) and resiliency are critical lessons for all.  BB Camp's future will bring new partnerships and growth, serving our kehila, our community, to our fullest.  During the continued pandemic, the agency excelled in 2021, with a trajectory to continue towards excellence in 2022.
Thank you all for a wonderful year
Michelle Koplan, BB Camp Chief Executive Officer
SUMMER CAMPING
With health and safety our highest priority, we offered the following camp programs successfully and safely:
Spring Family Camp served 22 families on our overnight campus.
Camp Easterseals at BB Camp, 12 campers with significant disabilities, in partnership with Easterseals on our overnight campus.
Overnight Camp, rising 2nd-11th grade, served 504 campers in our newly constructed ADA-accessible cabins. In addition to the traditional overnight camp experience, we offered BB Surfs and a Teen Israel Experience Trip, funded in part by the Jewish Education Project's RootOne.
Shabbaton Weekend, rising 1st-6th graders, served 41 campers on our overnight campus.
Shabbaton Final Shabbat, rising 11th graders, served 10 campers on our overnight campus.
BB Day Camp Lincoln City, rising K-8th grades, served 283 Lincoln County children on our overnight campus.
BB Day Camp Portland, rising Pre-K- 8th grade, in partnership with and hosted at Congregation Beth Israel, served 509 campers.  In addition, we offered 8 weeks of BB Middle School Days.
NEW BB Day Camp Portland Eastside, rising K-6th grades, in partnership with and hosted at the Eastside Jewish Commons, served 37 campers.
New BB Day Camp Corvallis, rising K-6th grades, in partnership with and hosted at Beit Am, served 28 campers.
Staff: 105 young adults served our camps in a variety of extraordinary roles.
Additionally, we safely gathered our community at our annual Golf Tournament.  As our summer began to wind down, on our overnight campus, our men's campers gathered for our annual Men's Camp week (serving 120 campers), and our 20-somethings came together for our annual Last Day of Camp weekend (serving 36 campers).
FOOD PROGRAMS
We continue to serve free meals to Lincoln County's food-insecure and hungry children on our campus and off-site locations through the USDA Summer Food Services Program, as well as to the evacuees from the Echo Mountain Complex Wildfire.  Since June 2020, BB Camp has prepared and delivered over 325,000 Free Meals (and counting!) to food-insecure and hungry children and the Echo Mountain Complex Wildfire survivors due to the pandemic, wildfire disaster, and the unforeseen and increased need to feed families during this crisis.
FAMILY & YOUTH EVENTS
Unfortunately, due to the pandemic, our Youth, Teen, Family, and Young Adult Programs were greatly diminished; however, we were able to serve and engage the community with the following programs.
Fall Family Event: This past November, BB Camp gathered 10 families at the Eastside Jewish Commons for our Fall Family Havdalah. Together we made art, played games, had meaningful discussions, and sang songs.  Beth Hammon, a Jewish singer & songwriter, joined and led the group in gratitude-filled Havdalah blessings, providing a warm and musical environment for the community to connect in.
In partnership with the Standard Steel Companies, BB Camp provided two Hanukkah events:

DIY Dreidel PJ Library: The BB Camp team made phone calls and sent personalized emails to each of our Oregon PJ Library families, inviting them to the virtual Chanukah event. This was our first PJ Library event specifically for all Oregon Community subscribers.  We had a total of 32 families spanning all of our Oregon Communities.  Most notably, we saw almost 87% of families were brand new to BB Camp.  The event's primary purpose was for each participant to create their very own DIY Steel Decorative Dreidel.  In addition to this activity, the gathering provided opportunities for families living in similar areas to connect and celebrate Chanukah together.  Participants sang and danced to Chanukah songs, listened to a Chanukah story, and participated in lighting candles in observance of the first Chanukah night.
DIY Dreidel RSJ: Through personalized phone calls and marketing, 19 kids and 10 adults from the Russian Speaking Jewish Community attended our DIY Steel Dreidel event.  This was our first engagement event, which had been funded through the RSJ Engagement Grant awarded to BB Camp in 2020.  Each participant created their very own DIY Steel Decorative Dreidel, ate Chanukah food, and lit Chanukah candles.  In addition to this activity, the gathering allowed parents to discuss living in a Russian-speaking home, while the kids had the opportunity to connect over dreidel games.

Winter BB Day Camps and Overnight Camp: This winter, BB Camp planned to provide meaningful day programs to youth in our two largest BB Day Camp communities; Portland and Lincoln City. For grades K-6th, Day Campers to enjoy the opportunity to be Jewishly engaged and reconnect with their Camp community while participating in their favorite Camp activities. An additional opportunity for Campers, grades 2nd-8th, was planned to spend time leading up to New Year's Eve at their favorite place on earth- BB Camp!  Campers were to spend two nights on Camp enjoying some of their favorite Camp activities, but with a wintery twist.  Unfortunately, due to unexpected inclement weather (snow and ice in both Portland and Lincoln City) and the surge in the COVID omicron variant, we were only able to provide one day of BB Day Camp Portland.
BBYO
Under BB Camp's leadership, 97 Portland City BBYO teens participated in a Kickoff event, ready for the school year's gatherings of chapters, city, and regional meetings, events, and conventions.  Since September, 32 new members have joined, with a total of 169 members to date.
PJ LIBRARY
As the Implementing Partner for PJ Library Oregon, the pandemic has allowed us to virtually gather our small, rural communities of Salem, Corvallis, Bend and Central Oregon, and Ashland and Southern Oregon to share resources and network.  To date, we are serving 596 PJ Library and 74 PJ Our Way subscribers.
RENTALS
Due to the continued COVID restrictions, BB Camp was unable to open our facilities to rentals until the Fall.  BB Camp hosted several rentals in October and November, serving primarily Lincoln City residents, including the meaningful and beautiful work of the Siletz Bay Music Festival, Kiwanis Club, and a few church and private events.
FALL STAFF & CAMPER RECRUITMENT (for summer 2022)
BB Overnight Camper Recruitment: Overnight Camp recruitment numbers have started strong and in a comparable spot to pre-pandemic fall numbers. The Winter discount, through December 31, will create momentum for those considering registering for summer Camp.  The new camper number is significantly higher than in years past at this time, showing an interest in families sending their children for the first time, likely after seeing our first year operating during the pandemic.  The program team will make phone calls to remind families to register and spread the word about Camp registration.  In November, we launched two Outdoor Jewish Adventure programs for rising 11th graders, Pacific Northwest camping and backpacking, and a trip to Israel utilizing RootOne teen Israel vouchers.
BB Day Camps Recruitment: BB Day CampPortland Enrollment data and trends remain strong and surpass all previous year's registrations to date.  December brings the usual recruitment efforts, such as synagogue visits, phone calls to families, and the Early Bird Discount at the end of the month, which is expected to be successful! In January, we will open registration for 2022 for our smaller BB Day Camps, Eastside, Corvallis, Salem, and Eugene.
Staff Recruitment: The BB Camp program team has been hard at work recruiting staff for summer 2022. Program staff have been reaching out to synagogues, high schools, colleges, and Jewish young adult groups all around Oregon to get the word out about summer employment opportunities. In November, BB Camp staff headed down to the University of Oregon, donuts in tow, to meet with students through Oregon Hillel.  It was so fun creating connections and spreading the word about the fulfilling employment opportunities BB Camp offers young adults in personal and professional growth.  We have also targeted high schoolers for BB Day Camp Portland and Lincoln City, visiting two of Portland's BBYO chapters and Congregation Beth Israel's high school classes.  We are also creating opportunities to bolster our staff retention and engagement through our upcoming winter programming staff reunions, employment at our winter break camps, and personal outreach.
National and Local Attention for BB Camp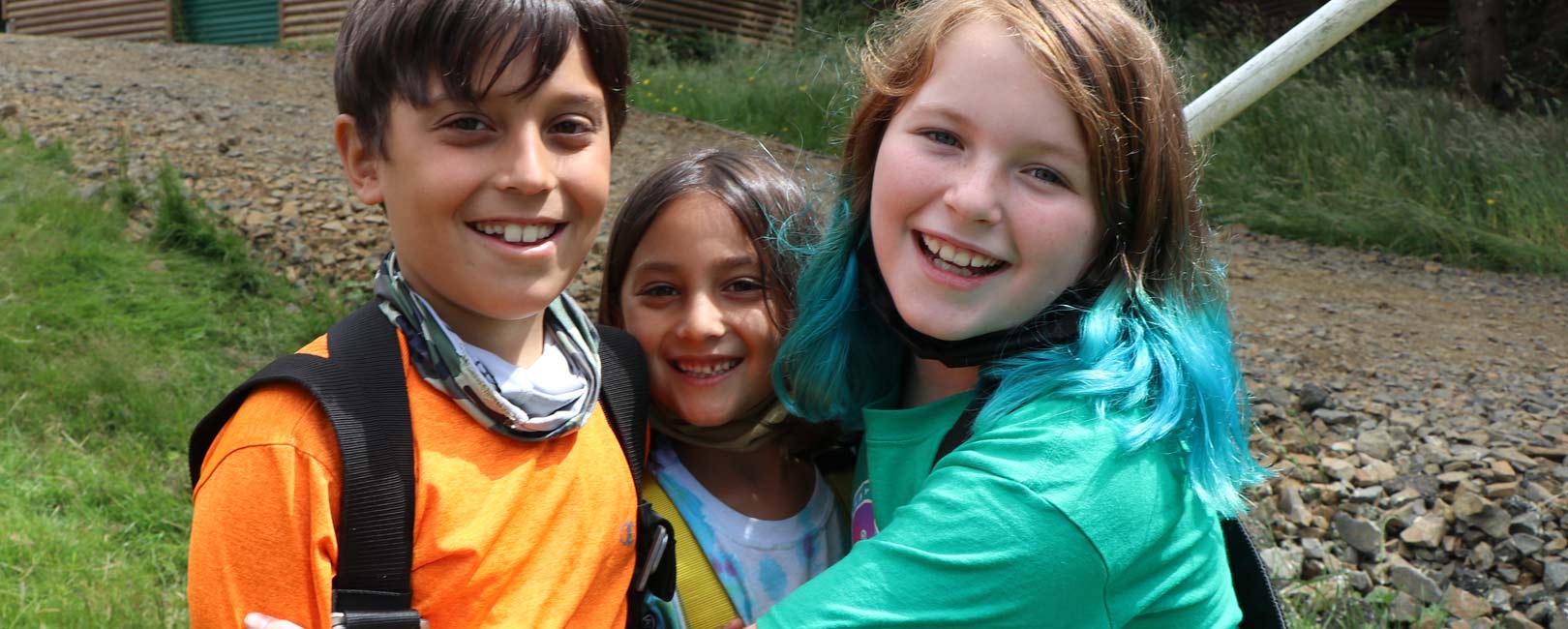 BB Camp CEO, Michelle Koplan, jumped into action immediately following the Governor's shutdown of our State in March 2020.  She worked closely with the Governor's Office and the Oregon Health Authority (OHA) to write the protocols necessary to open Oregon's summer camps with COVID mitigating protocols.  Although the Governor chose not to allow for overnight camps to operate, the relationships she made in the Governor's Office, OHA, and State Legislature translated to work that led to creating a coalition of Oregon's camps, The Alliance of Oregon Camps.  The Alliance of Oregon Camps is an organized group of American Camp Association, Christian Camp and Conference Association, and licensed Oregon camps.
As Chair and founder of the Alliance of Oregon Camps, Michelle has been a state-wide leader for camps.  Michelle, lobbyists, and other members have worked relentlessly on behalf of the Alliance to secure State funds to support the operations of Oregon's day and overnight camps as we continue to struggle during this pandemic year.  In the last days of 2020, this work paid off, as the Early Learning Division allocated $1.5M to Oregon's camps from CARES Act funding.  In the early weeks of January 2021, an additional $10M from State Appropriations was allocated to Oregon's camps.  BB Camp received $88,000 in the first allocation and $184,000 from the State Appropriations funding in the second allocation.
Michelle and the Alliance have continued their advocacy work throughout this year, submitting proposals for additional funding, which led to an additional grant to BB Camp of $137,000 from the American Rescue Plan Act through OCF.  Additionally, Michelle and the Alliance worked diligently to advocate and assist in writing the State Guidance that allowed for overnight and day camps to open and operate as fully as possible in
Community Engagement, Development, and Fundraising

EVENTS
Who Knows One? Volunteer Appreciation: We began the year by honoring the people in our community who made it possible for us to survive in 2020, our volunteers.  We played "Who Knows One?" an online zoom game show to honor the work it took to make it through the pandemic.  Representatives of our various volunteer communities competed, all in good fun, to find the "Chosen One." Participants included long-time Golf Committee Co-Chairs, Mort Simon & Denny Shleifer, our Lincoln City Seder Chair, Representative David Gomberg, a long-time camp doctor and member of our Wellness Committee, Bruce Birk, the chairs of our virtual BB Camp Bash, Jessica Rothstein Berger & Stacy Van Wagoner, BBYO Advisor Cassie Fowler, the multi-generational volunteers of the Wolf & Blauer families, and our outgoing Board President and a fearless leader, Jordana Levenick.  Lots of fun was had and we had hundreds of participants tune-in to our Facebook livestream of the event.  In honor of the work, BB Camp was doing to feed wildfire survivors and food-insecure children in Lincoln County, over $4,500 in donations were made during the event to support our Lincoln City Food Program.
BB Camp Bash: The BB Camp Bash Lines of Connection was an opportunity for over 200 of our closest friends to gather, to support camp, and to have fun. This virtual event raised over $230,000 with a special matching gift provided by the Harold Grinspoon Foundation's All Together Now Matching Grant and a group of generous local donors.  Our committee arranged for a group of comedians, highlighted by BB Camp Alumna Amy Veltman, to share and read letters from camp.  The virtual event platform allowed us to welcome participants from around the globe, including our chairs Stacy Van Wagoner from Tacoma, WA, and Jessica Rothstein Berger from New York.  The event included a special announcement from Winnie Sandler Grinspoon that BB Camp would receive a $10,000 Bonus Grant for meeting our All Together Now Match, and the announcement about the Zidell Challenge Grant to help complete the Second Century Campaign.  The online event software included the opportunity for the BB Camp community to gather virtually for cocktails and conversation before the event and afterward to toast our success and hear a bit more from our comedians and song leaders.
Golf Tournament: This year's Send a Kid to Camp Golf Tournament was held at Langdon Farms Golf Club on July 12.  The course and gathering spaces were a much better fit for our event, providing a better experience for everyone.  The mood was light, with everyone seeming incredibly appreciative to have an opportunity to gather in a way that felt like the first step toward normalcy as we began to emerge from pandemic restrictions. Over 128 golfers and friends joined us for the tournament and dinner to raise $55,000 toward scholarships for campers and over $145,000 for the Second Century Campaign through a paddle raise during dinner. Our new co-chairs, Jon Cohen & Loren Koplan, did an excellent job building a committee with more established and younger members, coordinating the move to a new site, and assuring that it was a fun and relaxing day of supporting camp.
Men's Camp: Despite the on-going pandemic, Men's Camp followed strict covid-19 protocols and 120 men's campers were able to gather in person and honor Man of the Year, Denny Shleifer. Over the past two years, we lost many men's campers and camp began with a moving memorial service and dedication of our brand-new amphitheater stage to long-time Men's Camp Board Member, Marty Zell.  The northside cabins were a treat for campers who had to wait an extra year to enjoy these fabulous new accommodations.  Men's Campers gathered in person with Bernard (Bobby) Brown and his family on zoom for the dedication of the Ber-Sel (Bernard & Selma) Cabin.  The rest of the week went well, with one big change, the golf tournament was played on camp with whiffle balls as the golf course was closed for the week.  As with our dining under a tent on the ballfield, we have perhaps developed some new traditions that will stay in future years.  Most importantly, it is really all for the kids.  On Sunday evening at Good & Welfare, the men and their families raised over $410,000 to support BB Camp and BB Campers.  It was truly inspiring!
BB Camp BBQ & Concert: When we began planning the BB BBQ & Concert, we were confident that with a September date, Covid restrictions would be in the past, and the weather would be perfect for hosting our first community event in the new amphitheater. This event replaced the Spaghetti Dinner, which for over 10 years has raised dollars for scholarships for the BB Day Camp Lincoln City. Alas, neither of these details followed our expectations, but the event was a tremendous success, nonetheless, thanks to the flexibility and perseverance of both staff and volunteers.  The weather forced us inside to the Mercaz, which proved the perfect space for this group of 70 attendees to sit, comfortably distanced, away from the rain, warmed by the music of Michael Allan Harrison and his All-Star Band, and the knowledge that all donations were supporting our critical work for the local community.  In the end, over $15,000 was raised to support scholarships for local children from Lincoln County and the Lincoln County Food Program.  Our thanks to Sue & Dick Anderson, Rick Mark, Ruth Shelly, and the many volunteers that made the event possible.
ReJewvenation Winter Warm-Up: Due to concerns over covid-19 and the delta variant, we were forced to sadly cancel our in-person ReJewvenation for the second year in a row. The committee pivoted to hold an in-person event in Portland just after Chanukkah, ReJewvenation Winter Warm-Up.  Thirty-six women gathered to reconnect, rekindle friendships, participate in Havdalah together, and look forward to being in person in 2022 to support BB Camp!
GRANTS
BB Camp was aggressive in seeking new and renewed grant support for our programmatic.  To date, we have received approximately 30 grants.  These include the Jewish Federation of Greater Portland, Foundation for Jewish Camp, Harold Grinspoon Foundation's PJ Library, the Oregon Jewish Community Foundation and Oregon Jewish Community YOUTH Foundation, the Siletz Tribal Charitable Contribution Fund, the Walter Behrens Foundation, the Juan Young Trust, the United Way of Benton, Linn & Lincoln Counties, the Holzman Family Foundation, and first-time grants from the Windermere Foundation and Marie Lamfrom Foundation.  The programs these grants support include the Lincoln City Day Camp, Lincoln City Food Program, our Inclusion work, PJ Library, BBYO, Teen Philanthropy, Camp@Home, Russian Speaking Jewish Community engagement and recruitment, Small Community engagement and recruitment, BB Surfs, and general support.  The total support for these programmatic initiatives, so far, is $147,782.
In addition, we have received Covid-19 Relief Grants and grants for our Wildfire Relief Food Program from many different funders for a total to date of $594,220.  This includes the State of Oregon, United Way of Columbia Willamette, United Way of Benton, Linn, & Lincoln Counties, the Harold Grinspoon Foundation's All Together Now Matching Gift, the Department of Homeland Security, and the Oregon Community Foundation.
(Updated Annual Campaign Total as of 12/31/2021 is $1,225,587)
SECOND CENTURY CAPITAL CAMPAIGN & NEW FACILITIES
The Second Century Campaign began 2021 with approximately $2.3 million remaining to reach our $14 million Campaign goal and complete the funding of the Field House, the final building in our 10-year campaign to completely rebuild BB Camp for a new century of campers.
Included in the final phase of the capital campaign is a $500,000 challenge grant from the Zidell Family, which required us to raise $1 million in matching funds to meet the challenge.  The E & SS Foundation from Elana & Scott Shleifer committed $540,000. The Zidell Family and the Shleifer's are now BB Camp's first-ever $1 million+ donors leading the way in the Campaign as our High Honors Century Circle Donors.  The total also includes grants from the HEDCO Foundation, the Foundation for Jewish Camp Yashar Initiative, and the Jerome Reich Memorial Donor Advised Fund at the OJCF.  Barry Menashe also matched $72,000 in donations at the Golf Tournament, all of which supported the end of the Second Century Campaign.
At the end of September, we launched the Friendship Circle Campaign portion of the Second Century Campaign with a mailer to all donors and parents (over 1,900 households).  All donors to the Second Century Campaign at the Flag Circle Level ($10,000 – $99,999) and at the Century Circle Level ($100,000+) will be honored on our donor walls which will be incorporated in the new Second Century Pavilion to be located where the present Ulam Godol is located.  All Friendship Circle Donors ($360 – $9,999) will be honored with a paver surrounding the Second Century Pavilion.  The response was quick and excellent.  In October & November, we did not follow up with our donors as it was the JFGP black-out period.  Regardless, 33 people sent in gifts for a total of $44,000 to the capital campaign.  These gifts, plus a gift of $100,000 from an estate that was left to OJCF, brought us over the top of a $500,000 challenge grant from the Zidell Family, for which we had to raise $1 million.  This challenge was given in April 2021, and we had until April 2022 to meet the challenge.  Our goal was to complete it by the end of 2021, and we met it by the end of November 2021.
At the end of November, we worked with some of our top donors in the Century Circle ($100,000+ donors to the campaign), and four of them stepped up with $300,000 in new commitments as a 1:1 End-of-Campaign Challenge grant.  When met, this challenge will put us over our $14 million goal for the 10-year Second Century Campaign.
Our Giving Tuesday, #BBGives, fundraiser typically raises dollars from end-of-year donors and other donors who have not renewed this year to meet our Annual Campaign goals.  In 2021, some significant covid-recovery grants allowed us to focus our attention for this fundraiser on raising dollars to meet the $300,000 End-of-Campaign match.  Leading up to and on Tuesday, November 30, we launched a campaign to meet this match by the end of December.  To date, our #BBGives efforts have raised $166,000 toward the $300,000 match.  We are in conversations with around 10 additional prospects at the $10,000 level and feel confident we will meet the match by the end of December.
Although we will reach our Campaign goal of $14 million, this is not the end of the Second Century Campaign.  In 2022, we have plans to announce our success while continuing to give donors the opportunity to support the campaign.  These additional funds will support endowment goals not met during the campaign and additional capital projects not included in the original campaign plans.  We expect many donors to wish to be included in our donor recognition plans at our planned Second Century Pavilion and Plaza.  Donor walls, donor pavers, and special recognition of the role the Foundation for Jewish Camp and JCamp 180 have provided in guiding and funding BB Camp over the past decade will be prominent to the Pavilion. 
(Updated Capital Campaign Total as of 12/31/2021 is $14,000,000.)
SECOND CENTURY CELEBRATIONS
Though the Second Century Campaign is the focus of our work in the fourth quarter of 2021, we continue our plans for our Second Century Celebrations in 2022 (delayed from 2021).  We are recruiting committees and beginning work on the following three events:
April 30, 2022: Second Century Centennial Bash
May 20-22, 2022: Second Century Alumni & Friends Weekend at Camp (adults only)
Summer 2022: Second Century Exhibit at the Oregon Jewish Museum & Center for Holocaust Education
FACILITIES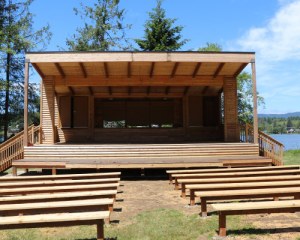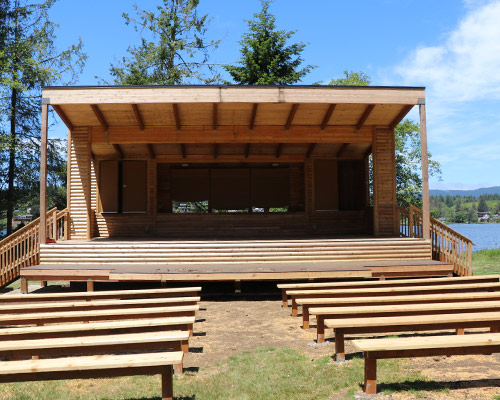 The New Aquatics Structure and Amphitheater, made possible through a grant from the Foundation of Jewish Camp and our generous matching donors, was completed in June. A new kitchen was built for our Lincoln County Food Program, on the bottom level of the Mercaz. Construction started on our new fieldhouse (gym.)