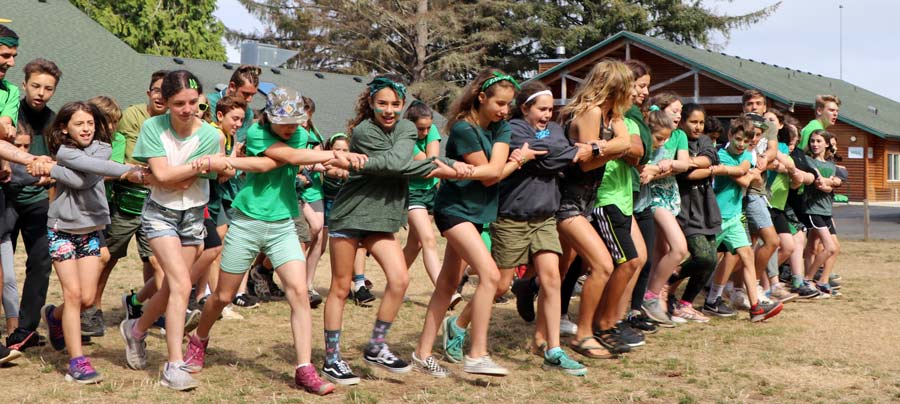 Position: Assistant Director of Community Care and Inclusion
Location   B'nai B'rith Camp Office, Beaverton, OR
Hours & Dates: Full Time, year round
Salary: $36,000 – $40,000, DOE
Benefits: Employer paid medical, dental, and vision; employer contribution to retirement fund; generous paid vacation, sick leave, and holidays, plus other benefits
B'nai B'rith Camp seeks a dynamic, experienced Assistant Director of Community Care and Engagement to help in creating a vibrant and inclusive Jewish community through creating and maintaining strong relationships with community members, seeking to support members of the community with special needs, program development and implementation. The position focuses on building upon programs BB Camp is currently implementing along with creating new opportunities for people to join our community.
The Assistant Director of Community Care and Inclusion is responsible for guiding B'nai B'rith Camp's inclusive practices, specifically overseeing camper and staff care and well-being. Responsibilities include camper recruitment and intake, hiring and supervising B'nai B'rith Camp counseling summer staff, inclusion program development and implementation, caring for the well-being of campers and staff, and developing and implementation of MESH and inclusion staff training. As a key person on the summer camp team, this position will serve to help with all camp related events.
The right candidate will have excitement for Jewish summer camping, excellent communication skills, be a team player, and have a passion for working with kids with disabilities and creating inclusive environments. This candidate will have a Master's Degree or at least 3 years of work experience in the fields of social work, psychology, special education, youth or family therapy, or any other mental health field. They should have a positive attitude, excellent relationship building skills, and understand that our success relies on engaging our community members at all stages of life.
This position will be joining the overnight camping team which, in recent years has greatly increased its' number of program offerings and participants.  This team is currently working to creatively expand in programmatic areas and increase the amount of kids we are engaging. It is an exciting time at BB Camp, as we are continuing to grow while we celebrate our 100th year anniversary and this position is an excellent opportunity to be part of that success.
The Assistant Director will report to the Overnight Camp Director and work closely and collaboratively with the organization's staff members, campers, parents, volunteers and alumni. Many of our year-round staff, our board members, and our volunteers are alumni of our program who are passionate about the future success of our summer camp and our emerging year-round programs. If you want to make an impact, work in an excellent team environment, and grow your own skill-set, this is the right position for you.
About B'nai B'rith Camp:
B'nai B'rith Camp, located on the Oregon coast, is the premier Jewish camp in the Pacific Northwest.  Since 1921, B.B. Camp has been dedicated to providing the finest Jewish summer overnight camp experience for today's campers while preparing them to be tomorrow's community leaders.  Since 2006, B.B. Camp has been serving the local community with our day camp program.  In addition to our summer camp programs, we rent our facility for conferences, retreats, and special events.  B'nai B'rith Camp is open to everyone. B'nai B'rith Camp is licensed by the State of Oregon, accredited by the American Camp Association (ACA), and a member of the JCC Association.
Application Process:  Interested applicants should submit a cover letter and resume to Bette Amir-Brownstein, Overnight Camp Director, at bamirbrownstein@bbcamp.org.  Review of applications will begin immediately.  Position is opened until filled. Read full job description here.