B'nai Brith Men's Camp Association Receives Well Deserved Honor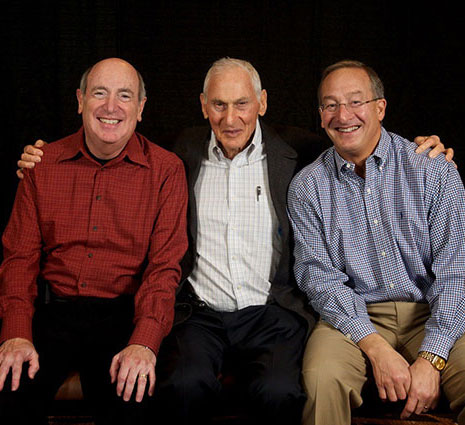 The Association of Fundraising Professionals Oregon & SW Washington Chapter is honoring the B'nai Brith Men's Camp Association with the 2019 Outstanding Volunteer Group award at their annual Philanthropy Awards celebration on November 12 at the Hilton Portland Ballroom.
The philanthropic influence of B'nai Brith Men's Camp Association (BBMCA) extends for nearly 90 years. Since the summer of 1931, the volunteers of BBMCA have gathered during the third week of August for "Men's Camp" to raise funds to support B'nai B'rith Camp (BB Camp), a primarily Jewish overnight camp located on beautiful Devil's Lake outside of Lincoln City, OR.
Over the decades there have been just six volunteer leaders of BBMCA. By honoring Kyle Rotenberg, BBMCA President, and Irving Potter, BBMCA Chairman, we also honor past presidents Bernie Cantor (1931-1942), Lou Schnitzer (1943 – 1946), Milton Margulis (1947 – 1971), and Milt Carl (1972 – 2006). After Milt Carl's 35 years as the BBMCA President it took two people to replace his tremendous leadership. Milt built the volunteer structure which supported scholarships for BB Campers and all capital upkeep at BB Camp as a purely volunteer organization. Men's Camp fundraising activity now generates more than $400,000 annually for these purposes.
BBMCA's influence goes far beyond the grounds of BB Camp. BBMCA spearheaded an incentive grant program for first time campers which has, locally, increased BB Camp's enrollment in overnight camp by more than 70 percent in the past decade. This model was adopted by the Foundation for Jewish Camp and is now used by over 200 Jewish summer camps in North America.
The group's philanthropy extends beyond the campgrounds and into the Lincoln County community. When BBMCA leaders learned in 2006 that a majority of local children from low-income families didn't have access to any summer programs, they found a way to fund a day camp for local youth with full scholarships available. Since then, more than 2,000 day campers have attended the camp and enjoyed the zipline and ropes course, heated pool, hydro-tubing on Devil's Lake, arts and crafts, plus dedicated staff who model self-confidence and inspire leadership. BB Camp has become a partner in the Youth Development Coalition of Lincoln County, which recently received a grant to fund a reading specialist at camp. BB Camp also received grants from Oregon Department of Education to establish off-site summer meal delivery at multiple low-income housing communities for Lincoln County youth.
One result of the day camp are the touching, real-life stories of children who live in poverty— some in their family's car—but found their confidence at BB Day Camp and some were inspired to attend college.
Soon after taking over the leadership, Kyle & Irving negotiated the sale of BB Camp in 2009 from the Mittleman Jewish Community Center and started a subsidiary organization to run the camp program. They soon launched a 10-year Second Century Capital Campaign to completely rebuild the camp by the 100th Anniversary in 2021. To date, $10.8 million toward the overall goal of $13.3 million has been raised and they are on track to complete the campaign and construction in time for the celebration.
The Outstanding Volunteer Group award recognizes that volunteers are the lifeblood of philanthropy. They start, support and/or enhance the programs and services that organizations provide. They often make the difference in an organization being able to serve its community, expand its services to a wider audience, or move its programs to a higher level of service to the community. BBMCA is the ultimate example of how a volunteers can help an organization to break new ground and expand program offerings.
AWARDS LUNCHEON
The awards lunch will be held at the Portland Hilton on Nov. 12 from 11:30 am to 1:30 pm. Tickets for the luncheon are $60 for AFP members and $85 for nonmembers. Ticket prices increase to $75 and $100, respectively, after Oct. 11. Tickets are available for purchase via AFP's website by CLICKING HERE.
For more information email afp-oregon@comcast.net or visit afporswwa.org