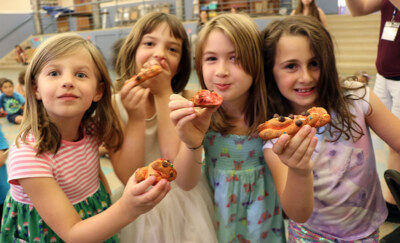 KIDS NIGHT IN
When:
December 17| February 8| April 12, 6:00-9:00pm  
Where: TBD 
Who should come: Drop off your campers in K – 5th grade 
Cost: $18 per child – register below
Ready for some R & R with your loved ones? Drop your child off for a fun evening with BB Camp! Crafts, pizza dinner, and games will be enjoyed by your camper. Send all the kids in the neighborhood and have a grown-up's night in too! 
Questions? Email shagen@bbcamp.org  
COVID-19 Mitigating Protocols for BB Camp Year-Round Programs
The health and safety of our camp community are our highest priority.  BB Camp continues to follow guidelines provided by the Oregon Health Authority and the Centers for Disease Control and Prevention.
All participants, staff, and providers are required to be fully up-to-date vaccinated against COVID-19 and may be required to attest to or show proof of vaccination.

Anyone seeking a medical exemption must contact 

mkoplan@bbcamp.org

 for a Medical Exemption Request Form.  The Form must be submitted with a signed letter by an allopathic or osteopathic physician, advanced practice registered nurse (e.g., nurse practitioner), or physician's assistant supporting the request.  Requests for medical exemption will be reviewed by the BB Camp Chief Executive Officer, or designee, and a representative from the BB Camp Wellness Committee
Thank you for helping us keep our community safe!