Milt Carl  was first and foremost a loving father, grandfather, and great-grandfather. He was also an icon of the Portland Jewish community and the patriarch of B'nai B'rith Camp. For 35 years, Milt served as the President of the B'nai Brith Men's Camp Association. Milt literally built the organization we have today. Through his leadership, dollars were raised for scholarships to assure that every kid could afford a summer at BB Camp, and he worked tirelessly to obtain donated materials to build new cabins and buildings. We are deeply saddened by his passing and inspired to celebrate his legacy by continuing to support BB Camp and the Portland Jewish Community in his honor. Hundreds of leaders in our community benefited as children from his good work. Here are the thoughts of just a few of these leaders: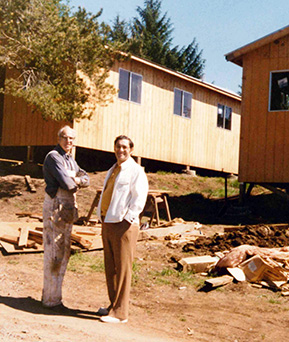 Kyle Rotenberg, President, B'nai Brith Men's Camp Association:
I am sitting here writing thru my tears trying to formulate my thoughts about a man who words alone cannot do justice. He is the last of what I always considered my three fathers and was my mentor in business, philanthropy and life. He has given me wisdom to push myself to be all I can be, guidance on how to do it and support to get it done. He was our President for 35 years and it took both Irving and myself to follow in his footsteps. Irving has pointed out that if you google to get directions to B'nai B'rith Camp you will see you turn in on Milt Carl Way. The way does not just refer to a street, though, but rather our philosophy at B'nai Brith Men's Camp. We do it Milt's way. Milt was a man who was
President of the JCC when it was constructed in its present location. He was President of most Jewish organizations and congregations he was associated with. He was a man who was President of the Portland Board of Realtors so those outside of the Jewish community saw the greatness of this man. But his true love outside of his family was B'nai Brith Men's camp. He was a man who was our President, who guided us thru growth and was loved by all of us. He was not just a man to us, he was, and always will be, THE MAN.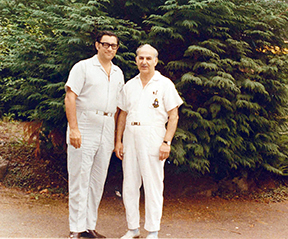 Michelle Koplan, BB Camp Executive Director, 1999-present:
My Uncle Milt was my inspiration in Jewish communal service and was a true role model in philanthropy for me. I'm indebted to him for the gift and opportunity to direct BB Camp – a legacy I am forever grateful for and honored to hold – and one I don't take lightly. I will miss him dearly.
Linda Nemer Singer, Community Concierge, MJCC:
My father, Harry Nemer, would have been 102. He is pictured (left) with his good friend Milt Carl at their favorite place, B'nai Brith Men's Camp, wearing one of their executive board matching outfits. They were both amazing volunteers, role models, fathers and grandfathers! Our community has now lost 2 great men. Dad, I miss you!
Steve Friedman:
Mentor. Leader. Humanitarian. Inspirer. Milt meant something uniquely special to each and everyone he touched. He is revered and I will always carry him in my heart. May peace be with Milt.
Sheryl Sachter Rudolph
Milt was a living, breathing, walking, loving blessing in all of our lives and our entire community. #livebyexample.
Barb Gordon, BB Camp Administrative Assistant:
He was such a Mensch, always had BB Camp in his heart. Thank you Milt for all you did for our children and for bringing us Michelle to take care of the next generation. May his memory be a blessing.
Aaron Pearlman, BB Camp Capital Campaign & Development Director: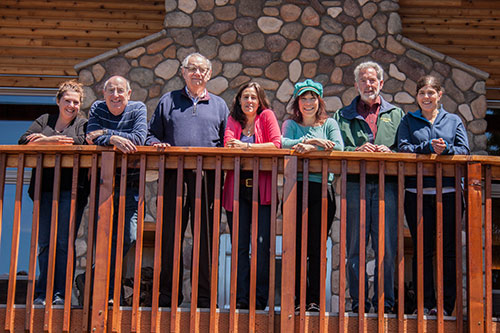 When I returned to Portland in 2002, I had the privilege of working closely with Milt and with Henry Blauer at Cedar Sinai Park. Known at the time as "Milt 'n Henry" some people didn't realize this was two different people. Now that these two lions of our community are gone, we must all take up the mantle to assure that our community thrives through the next century.
Read more about Milt Carl, and his involvement in our community, on the Oregon Jewish Museum Website