B'nai B'rith Camp and Congregation Shaarie Torah
Invite you to
The Milt Carl Way Award
Sunday, May 17, 2020, 5:00pm
---
About The MILT CARL WAY AWARD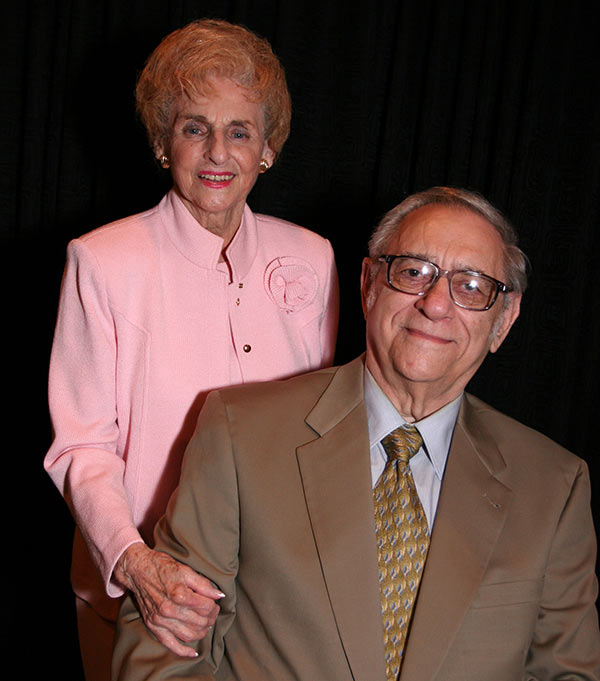 Milt Carl was an icon in our community, a tremendous soul, a mensch, a terrific father and grandfather, and a leader who changed the landscape of the Portland Jewish community. Congregation Shaarie Torah, which houses the Milt & Cissi Carl Pre-School, and B'nai B'rith Camp, where Milt served for 35 years as the President of the B'nai Brith Men's Camp Association, are joining together to establish the Milt Carl Way Award.
For many leaders in the community Milt was a mentor in how to conduct yourself in business, philanthropy, and life. When you for search directions to B'nai B'rith Camp you will find that you turn onto "Milt Carl Way." The title does not only refer to a street name, but rather a philosophy of how to conduct oneself in the world – support others, volunteer your time, donate "until it hurts just a little," and always ask others to give.
The Milt Carl Way Award honors individuals who do it Milt's Way. Those who care deeply about the Jewish community. Those who do profound work for many organizations. Those who feel most themselves when they are giving their time and personal resources. Most importantly, those who are dedicated to encouraging others to give.
Proceeds from this evening will establish a Milt Carl Way Scholarship Endowment at B'nai B'rith Camp and support an array of educational programming at Congregation Shaarie Torah.
2019 Awardees
Jenat Levison Feldman was born and raised in Nashvile,TN by two parents strongly committed to and connected with their Jewish community. So it comes as no surprise that Jen was drawn to a career as a Jewish communal professional. She trained at the New Orleans JCC and spent 9 years at the Atlanta JCC. While living in Boulder, CO she started a JCC preschool, that even Rabbi Josh Rose's children attended. The preschool grew into an entire Jewish Community Center and now is home to an impressive campus. Since moving to Portland, Jen spent over 20 years working for the Jewish Federation of Greater Portland. Before retiring last June, Jen proudly served as the Development Director of Congregation Beth Israel. She has always lived her life with the philosophy to welcome the stranger, by being the first to say hello, and to truly build the community that you wish to be a part of. She strongly believes that 'life is a party and everyone is just waiting to be invited!'
Kyle Rotenberg became involved in philanthropy because of Milt Carl. Kyle worked for Milt for nine years following his college graduation. He was asked to serve on the board of the Oregon chapter of Volunteers of America, so he reached out to Milt for advice. That conversation inspired him to join the MJCC board, which led to his involvement with the United Way Board as the J liaison, as well as various committees at the MJCC. He took time off for law school, then worked on the MJCC's first strategic plan and was one of the original 13 board members when the new J was reborn. Kyle has been involved with the board of B'nai Brith Men's Camp Association for over 27 years and has been the president since 2007. His incredible work with the BBMCA has helped thousands of children receive scholarship to attend B'nai B'rith Camp and innovate Jewish camping for all ages.
Jordan Schnitzer Native Oregonian Jordan D. Schnitzer is the President of Harsch Investment Properties, a Portland-based real estate acquisition, development and management company started by his father in 1950. Jordan is following in the footsteps of his parents, Harold & Arlene Schnitzer, as a philanthropic and civic leader in Oregon. Jordan is a Director of the Harold & Arlene Schnitzer CARE Foundation and has served on over 31 civic and cultural boards including the Portland Art Museum, the Japanese Garden Society of Oregon, the High Desert Museum in Bend, and the Friends of Astoria Column, to name a few. Jordan has created one of the nation's largest contemporary print collections, which is shared with the public through the Jordan Schnitzer Family Foundation. Jordan has been a transformative figure in the Jewish community as Co-Chairman of Rose Schnitzer Manor capital campaign, 20 years on the Board of Cedar Sinai Park, Chairman of the MJCC, Co-President of Congregation Shaarie Torah, Trustee at Congregation Beth Israel, founding Trustee of Greater Portland Hillel, and established the prestigious Jordan Schnitzer Book Award through the Association of Jewish Studies, based in New York.
THANK YOU TO OUR 2019 SPONSORS



Presenting Sponsor

Platinum Sponsors
Sheldon Klapper and Sue Hickey

Buckley Law PC & Stan and Pam Rotenberg
Gold Sponsor
Jason Waxman and Lynne Hana

Silver Sponsors
Cameron and N. Dickson Davis
Ruben and Elizabeth Menashe
Bob and Rita Philip
Dan and Janice Pitman
Irv and Arlene Potter
Gayle and Paul Romain
Mardi Spitzer
Eve Stern and Les Gutfreund
Zidell Family Foundation
Bronze Sponsors
Frieda Gass Cohen • Howard & Linda Davis • Norma Hewitt • Jewish Federation of Greater Portland • Ellen Lippman & Steve "Rosy" Rosenberg • Keri Nicolaisen • Rabbi Josh & Channah Rose • Stan & Madelle Rosenfeld Family Foundation • Kyle & Becky Rotenberg • Faye Gordon Samuels • Kathy, Curt, Rick & Michelle Sheinin • Ken & Mary Unkeles • Jim & Susan Winkler • Steven & Deborah Wynne
Patron Sponsor
Peter & Leslie Beard • Barry & Karla Benson • Mitch & Lynne Cohen • Mike & Barbara Enkelis • Ivan Gold • Holman's Funeral Service • Howard & Wendy Liebreich • Jeff, Anne, Josh & Sol Nudelman • Oregon Jewish Community Foundation • Tiffany & Eric Rosenfeld• Bunny & Jerry Sadis • Shaarie Torah Men's Club • Shleifer Marketing • Linda & Gary Singer • Bruce & Marilyn Soulas • Helen Stern
Other Generous Supporters:
Howard Abrams • Steve Arnsberg • Jerome Barde • Gerel Blauer • C & R Real Estate• Marje Jacobson • Lou & Kathy Jaffe • Herschel Lawson • Ron Subotnick & Barbara Weiland • Steve & Sheryl Rudolph • Bunny & Jerry Sadis • Mort Simon • Terri Simon