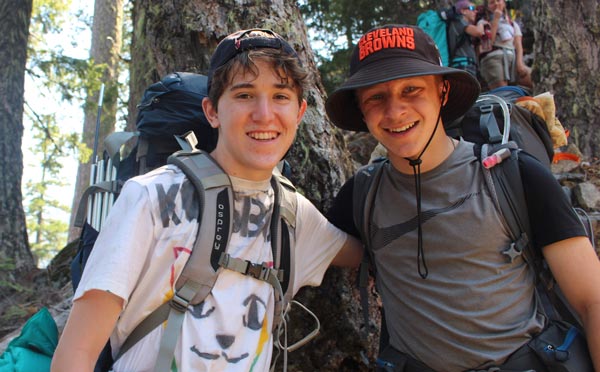 Raft at BB Camp stays afloat and buoys teen for the rest of his life
By David Coodley
One day at B'nai B'rith Camp on the Oregon Coast, my counselor challenged his 10 sophomore boys to build a watertight raft. We spent an entire day finding lengths of wood, roping them together and nailing them down. Swimming across the camp's Lake was verboten. No matter; we had this raft thing down. We jumped upon our seafaring vessel and soon were threatened by a mass of tiny black bugs congregating around our raft.
About halfway across the lake, one of my new friends started complaining: there were too many bugs on the water, and he threatened to swim back to shore. I asserted myself, taking the lead, kindly calming down Chris. Then the bugs made themselves comfortable on the raft. There we were, in the middle of a lake, on a poorly built raft, with seemingly millions of bugs surrounding us as dinner time approached.
I'd never attended this summer camp before. A friend had told me about this four-week Jewish sleep-away camp and it sounded like fun. But the majority of kids start going to BB Camp in second grade, not as rising sophomores. I would know no one; everyone else already would be friends with one another. Should I bust way out of my comfort zone and go for it, or would I end up spending a month on the coast alone?
I signed up.
I boarded the big yellow school bus that shuttled campers to BB Camp, and sat alone. I arrived at camp knowing no one.
Then, one of the boys my age simply reached out and gave me a hug, introducing himself as Jonathan. Unprepared, my first reaction was shock. What a kindness he'd just shown me. Soon, I got my sea legs and introduced myself. Life here with my peers — new friends to chase away the loneliness — might be terrific. I could learn to initiate like Jonathan had; I could be the one bringing people in rather than letting them stand alone.
I dropped my bashful stance and quickly became close friends with my cabin mates.
Back on the Lake, with my new-found confidence, I helped return our rickety raft to shore. We all needed to row twice as fast to have a chance to make dinner, and my new friends followed my lead. Our crew entered the dining hall that evening soaking wet, triumphant.
What a feeling to be friends with everyone. Receiving that first hug after arriving at BB Camp made me realize that ensuring people feel comfortable — and not alone — is great for their happiness and self-confidence and my own.
---
By David Coodley, Wilson High School Class of '21. Excerpt from David's Common App essay. Jenn Director Knudsen, college-essay writing coach, assisted David in the writing and editing process.
*Names have been changed to protect campers' privacy.