Year-round Employment Opportunities
Cook – FT at B'nai B'rith Camp near Otis, OR
B'nai B'rith Camp seeks a reliable Cook to assist the Kitchen Team in food-related services provided by BB Camp. The Cook will report to the Food Services Director and work closely and collaboratively with the organization's staff members and guests.
Janitorial and General Maintenance Assistant – FT at B'nai B'rith Camp near Otis, OR
B'nai B'rith Camp seeks a dynamic, experienced Janitor to help maintain the BB Camp facilities. The Janitor is responsible for assisting in maintaining the property, primarily the interior of buildings, including floors, carpet, rugs, windows, walls, and the outdoor grounds. This position will also be assisting the maintenance team on all large projects and will be expected to support all staff teams in the general maintenance of the facilities, as needed.
Landscaping & Maintenance Assistant – FT at B'nai B'rith Camp near Otis, OR
B'nai B'rith Camp seeks a dynamic, experienced Landscaping & Maintenance Assistant to perform various non-routine and skilled landscaping and maintenance activities on the facilities' buildings, grounds, and equipment.
What's working at Camp all about?
Think back to the individuals who have touched your life. It's a good bet many of them were past teachers, coaches, and mentors. Have you ever asked yourself why these people played such an important part in your life? We're confident it's because they took an interest in you, guided you, and challenged you to be your best self. As a staff member at B'nai B'rith Camp, you will have that exact same opportunity to positively impact the lives of our campers!
Any good Camp Director will tell you the key to a successful summer is the quality of the staff. Each year we look for competent, sensitive, and enthusiastic individuals who are dedicated to working with children to fill this role. Implementing dynamic programs at our camps is only meaningful if our staff supports the mission of providing a safe and caring environment for our campers.
Planning and Directing programs
Leadership and Responsibility
Teaching skills and Building teams
Public Speaking and Problems solving Skills
Supervising groups and Counseling children
Managing facilities and Maintaining equipment
Great resume experience
We strive to create a warm, comfortable, and safe community for all staff and campers. You'll make friends for life, challenge yourself, discover skills you never knew you had, make a positive difference in the lives of children.
It is our hope that as the camp season comes to an end, you'll look back on your summer as "the best experience of your life" and continue to stay involved for years to come.
Staff Application: Each staff member must fill out the online Staff Application. The application contains general information questions, questions regarding your skills related to the job, short answer questions that will be reviewed by the BB Camp team. You will need your Social Security Number/Driver's License number, the dates you are available to work, and contact information for 3 references. Please Note: Once you submit your online application, the references you put down, get contacted directly.
Initial Interview: Within two weeks of submitting your application, you will hear from a BB Camp staff member to set up a time to interview. These interviews are typically 30 minutes in duration.
Group Interview: BB Camp staff are sometimes asked to return for a group interview. This is an opportunity for us to see how you work with a team and interact with others.
Accepting your position: You will receive an email letting you know if you have been accepted to work at BB Camp. This email will contain a link to your contract and other forms. If you choose to accept your contract, you are required to return it within two weeks of receiving it.
All applicants who apply prior to January 1st will be interviewed and notified of their summer employment by Tuesday, February 1st. Following this deadline, we will be hiring for summer on a rolling basis; those who apply earlier will have access to more positions.
Certain roles will require specific qualifications, which will be outlined in your job description. Below are the general qualifications of a BB Camp staff member.
Essential Functions:
All B'nai B'rith Camp staff are respectful, inclusive individuals who are dedicated to creating a safe environment for the growth of children. Those who are chosen to be part of the summer staff team are committing to positively communicating with their co-workers and identifying when they need additional support. All staff members are expected to treat every person on camp in a manner that reflects respect for individuals. They are expected to act in ways that show inclusivity toward all in a group. They must prioritize both the emotional and physical safety of all campers and staff with whom they work. Staff Members must:
Have a desire to work with children and adults in a camp setting
Be able to accept guidance and supervision
Be able to make appropriate judgments and decisions concerning children
Be able to identify problems that need to be solved when they arise
Prioritize campers at camp while using respect, inclusion, and safety as guiding principles throughout all of their assigned duties.
Perform job responsibilities during hours scheduled to work
Be able to observe and evaluate adults and childrenHave good character, integrity, adaptability, enthusiasm, sense of humor, patience, and self-control
Be prepared to teach skills to other staff members and campers of all ages
Be least 16 years of age for Day Camp OR 18 years of age or post-high school for
Attends staff training week
Hold current First Aid & CPR certifications

Staff at our Overnight Camp have the opportunity to work with over 500 campers each summer from a variety of age groups. Staff members receive 2 hours off each day, plus 7 days and 4 nights off. Cabins sleep up to 20 people, are heated, and include electricity, bathroom facilities, and showers. Most staff live in camper cabins, while senior leadership staff will live in separate housing. There is a staff lounge on the premises and Wi-Fi throughout much of Camp.
BB Day Camp Portland staff work together to provide engaging, fun, and meaningful summer experiences for campers of different backgrounds and a wide age range. Our campers are rising kindergarteners through middle schoolers and come from all across the Portland metro area. Due to the urban nature of our camp, we get to explore our environment through field trips and welcoming special guests.  
Our typical work week is Monday through Friday, 8 am – 5 pm.  
While the ideal candidate can work for all 8 weeks of Camp, partial-summer options may be available.  
Join the BB Day Camp Portland team for a fantastic experience! 
Counseling Team
Day Camp Portland – Inclusion and Counselling Coordinator 
The Inclusion and Counselling Coordinator oversees the well-being and day-to-day functions of multiple age groups. This person is responsible for modeling relationships with campers, implementation of positive behavioral strategies, and strategizing with the leadership team for camper care solutions. Additionally, they will supervise a team of counselors and assist in program coordination, field trips, and overall logistics. Must be 21 years or older or have significant experience working with children (preferably in a Camp setting).  
Day Camp Portland – Head Counselor 
Day Camp Counselors are primarily responsible for the care and well-being of our campers. A counselor acts as a role model, supports specialists during activities, and will have opportunities to create their own programs. Must be 18 years or older and have experience working with children (preferably in Camp setting). 
Day Camp Portland – Counselor 
Day Camp Counselors are primarily responsible for the care and well-being of our campers. A co-counselor acts as a role model, supports specialists during activities and supports the head counselor in planning and supervising group activities. Counselors are rising 11thand 12th graders, preferably with experience in a camp setting or working with children. 
Specialists
Day Camp Portland – Stem Specialist 
The STEM specialist is responsible for planning and leading fun, camp-style programs related to science, technology, and engineering. Specialists must have a background and expertise in teaching science and engineering and be able to create age-appropriate lesson plans for campers in kindergarten through grade 8. 
Day Camp Portland – Athletics Specialist 
Responsible for planning and leading athletics activities which may include basketball, soccer, cricket, capture the flag, and more. Specialists must have a background and expertise teaching athletics, leading camp games, and be able to create age-appropriate programming for campers in kindergarten through grade 8. 
Day Camp Portland – Arts Specialist 
The arts specialist is responsible for supervising the arts, crafts, and ceramics areas. The arts specialist must have a background and expertise in teaching art and be able to create age-appropriate programming for campers in kindergarten-grade 8. The arts specialist will have opportunities for camp-wide projects as well. 
Day Camp Portland – Dance Specialist 
The dance specialist is responsible for planning and leading Israeli dance and other dance activities. Specialists must have a background and expertise in dance and be able to create age-appropriate programming for campers in kindergarten through grade 8.  
Day Camp Portland – Teva (Nature) Specialist. 
The Teva specialist is responsible for planning and leading Teva (nature) activities. Teva trips are field trips to outdoor spaces where campers can explore nature more in depth. The Teva specialist will create programs and lead activities with groups K-8 once or twice a week on these field trips. Specialists must have a background and expertise in the area that they teach and be able to create age-appropriate programming for campers in kindergarten through grade 8.  
Is your teen looking for fun way to get some work experience or fill volunteer hours this summer? BB Day Camp's Counselor in Training Program might be the perfect summer opportunity for them! Teens in our CIT Program will have the opportunity to fill volunteer hours, gain work experience with children, and have a super fun summer!

 

CITs will be able to work with children of different ages and backgrounds and learn from staff members with different skills and specialties. Along with assisting counselors in day-to-day activities, camper supervision, and field trips, CITs will have their own special programming. This program will include activities scheduled into each day for the CITs to form meaningful relationships with other CITs and build upon their leadership, communication, and teamwork skills. This CIT program will look great on future resumes and college applications!

 

The CIT program is FREE for all rising 9

th

 and 10

th

 graders who are interested!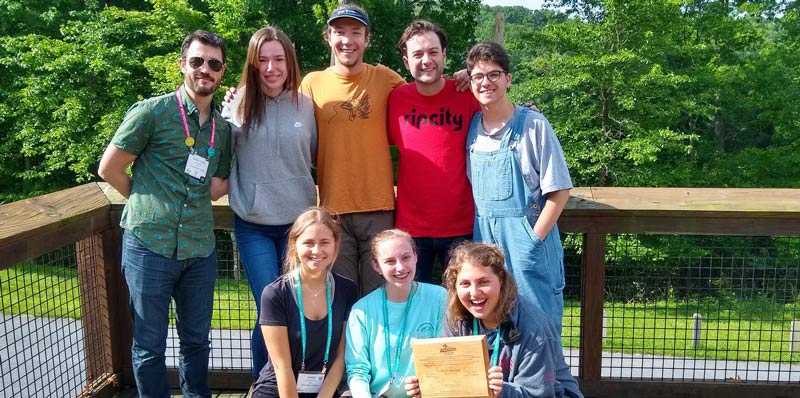 Are you a returning staff member?
Do you want to grow your role at camp and develop professional skills? 
Interested in meeting other counselors of different camps from all over the country? 
 
Apply to be a Cornerstone Fellow! 
The Cornerstone Fellowship Seminar is a Professional Development Conference held in Waynesboro, PA for returning Bunk Staff in Jewish Camps across North America. Camp's send delegations of 3-5 Camp staff who have shown great work in their first years as a bunk staff and are interested in growing their leadership role at Camp. All expenses are covered including room and board as well as the cost for flights to the East Coast and back! Cornerstone fellows will meet staff members from all over North America, work with professionals on fine tuning their leadership skills and become part of the huge Cornerstone alumni network. Interested in learning more? Check out the Foundation for Jewish Camp's Cornerstone website! 
How does the Cornerstone Seminar impact my summer at camp? 
At Cornerstone, you will learn from experts and individually work with your camp team to both improve upon and create entirely new projects and activities to bring to camp this summer! 
At BB Camp, Cornerstone Fellows will utilize their mentoring and programming skills they learned at the seminar to bring their ideas and programs to life at Camp! As a Cornerstone Fellow, you are emerging Camp leadership, meaning your projects will stretch out through all of camp, leading sessions for both staff during training week and all camp programs throughout the summer. Fellows are seen as mentors for staff members on Camp and work with the program team to make meaningful changes at Camp. Please fill out this form to apply to the Cornerstone Fellowship.   
FAQ 
Who is eligible?  Participants must be at least 18 years old and returning to work as a bunk staff for their second summer (SIT year doesn't count).  
Where is the Seminar Located? The seminar is located at Capital Camps in Waynesboro, PA 
When is the fellowship? 
What is the cost? There is no cost to Cornerstone fellows, all expenses including travel will be paid for.  
How to I apply? The Cornerstone Fellowship is limited to 5 staff members. Please fill out this short form by February 15.  
Questions? or interested in joining BB Camp for the 2022 Cornerstone Fellowship Seminar? Feel free to contact Alex Leveen
Thank you for your interest in working at B'nai B'rith Camp. Please keep in mind the following as you complete the staff application:
Our online application only saves when you change pages using the Continue or Previous buttons on the page, so be sure not to hit the "back" button, or you will lose your progress.
We require the following pieces of information which you should have on hand:

The names, addresses, phone numbers, and email of up to three work references
Your Social Security / Driver's License Number
The dates you are available for work

You will be asked to complete a series of essay questions. We recommend that you compose your answers to these questions in a word processor offline, then copy the answers into the text boxes so that you can save your work.
If you have any questions please contact info@bbcamp.org
Thank you! We look forward to receiving your application.