Behind-the-Scenes With BB Campers: Four First-Time Family Tips!
With our first BB Camp session fast approaching, we are excited to welcome many new campers for the 2017 season!  Of course, it's natural for pre-camp jitters to kick in right about now, so we thought it would be helpful to turn to the experts  – returning BB Campers  –  to share a few tips for first-time families!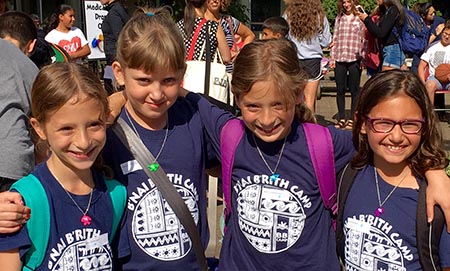 Special thanks to Hannah, Lila, Spencer, and Marley, from Northeast Portland, for writing this guest post. They are gearing up for their third season of BB Camp together this summer in the coming weeks!
Tip #1: Pack Like a Pro  
Here are some of the most important things to remember when packing for BB Camp. Devils Lake can get cool, so campers should bring lots of extra layers. And, make sure to let your camper know where everything in their bag is packed especially important items.  Once you have all the items your camper needs, get some storage bags or packing bags/packing cubes to organize their bag a little bit. If your camper wants to bring their favorite toy or comfort item, make sure to label it. And, they should only pack what the packing list says; they have to carry their things to their cabin, so have your camper practice carrying their bag! Finally, make sure that your camper is not bringing nice clothes or shoes, except for the Shabbat outfit, because they might get lost. Make sure to label EVERYTHING!  — By Hannah, age 9
Tip #2: Don't Worry About The Food: There's Something For Everyone!
The food at BB Camp is amazing! I think that no one, and I mean no one, can leave Camp without liking something that they've eaten. And, if there is something that you don't want to eat, then all you have to do is try it; you might like it! If you don't, you can ask your counselor to help get you a peanut-butter and jelly. And, if you really like the food and you're still hungry, you can wait for your table to be called, and you can get seconds! I personally like to get seconds of breakfast coffee cake. It is delicious!! So when you're at BB Camp, always remember that the food is awesome!   — By Lila, age 9  
Tip #3: Gear Up For Gaga, And So Much More!
Hi everyone! If it's your first time coming to BB Camp, don't worry, there are so many fun things to get excited about! You will definitely want to play some Gaga—it's an Israeli ball game, kind of like dodge ball, and it's really, really fun! Making friendship bracelets is a great activity too, and makes a nice gift for your friends and family back home. You can also go rock climbing, unless you are afraid of heights! And, you will love the camp pool; there are lots of fun games there to play with your new camp friends. Last but not least, you can go on speed boat rides and ride around on an Inner tube. It's awesome! — By Spencer, age 10
Tip #4:  How to Handle Homesickness 
Homesickness is a hard thing at a sleep away camp, but you are not alone because everyone experiences it!  One thing that might help you with it is packing a picture of your family or something that makes you feel better. You can also bring a memory from home like a stuffed animal or a favorite book to help you get to sleep. And, you will get letters from your family which helps, too. If you feel homesick, you can always talk to your cabin counselor, because they have lots of experience, and many of them were campers when they were your age, so they know how you are feeling. And just remember, camp goes fast so you will be back with your family before you know it, so enjoy every moment of it!  — By Marley, age 10
Thank you to our guest bloggers for these great tips! We hope they are helpful for first-time campers as you prepare for the BB Camp experience ahead. Stay tuned for more updates, tips, and camp memories in the making on the blog in the coming weeks — and we look forward to seeing you at BB Camp very soon!
If you or your family members would like to be guests on our blog, please contact our Communications Associate